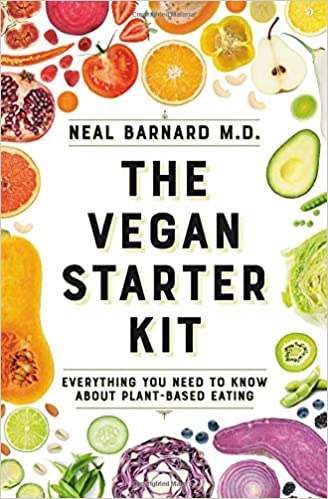 The Vegan Starter Kit
by Neal Barnard, M.D.
Many are looking to adopt a more healthful diet but may have questions, like: How do I plan a vegan meal? Is protein an issue? How do I make it work if I don't cook? Which are the best choices at restaurants?
In The Vegan Starter Kit, Dr. Neal Barnard answers your questions and gives you everything you need to put vegan power to work. You'll learn how to ensure complete nutrition, and get quick-reference charts for calcium sources, tips for modifying your favorite recipes, and examples of quick and easy meals. Everything you need for permanent weight control and dramatically better health is presented.
The Vegan Starter Kit also includes information on healthy eating in childhood, pregnancy, and other stages of life, and a complete set of basic meals, holiday feasts, snacks, among many other features.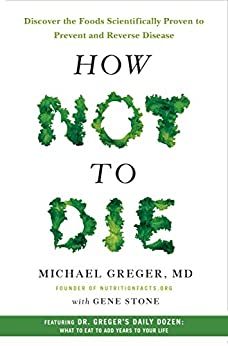 How Not to Die
by Michael Greger, M.D.
From Michael Greger, M.D., FACLM, the physician behind the trusted and wildly popular website Nutritionfacts.org, How Not to Die reveals the groundbreaking scientific evidence behind the only diet that can prevent and reverse many of the causes of disease-related death.
The simple truth is that most doctors are good at treating acute illnesses but bad at preventing chronic disease. The fifteen leading causes of death claim the lives of 1.6 million Americans annually. This doesn't have to be the case. By following Dr. Greger's advice, all of it backed up by strong scientific evidence, you will learn which foods to eat and which lifestyle changes to make to live longer.
How Not to Die, presents the scientific evidence behind the only diet that can prevent and reverse many of the causes of premature death and disability. The How Not to Die Cookbook puts that science into action. From Superfood Breakfast Bites to Spaghetti Squash Puttanesca to Two-Berry Pie with Pecan-Sunflower Crust, every recipe in The How Not to Die Cookbookoffers a delectable, easy-to-prepare, plant-based dish to help anyone eat their way to better health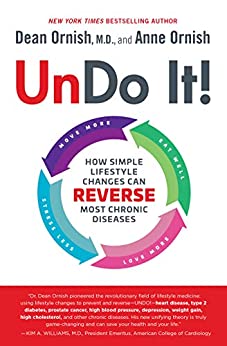 Undo It!: How Simple Lifestyle Changes Can Reverse Most Chronic Diseases
by Dean Ornish, M.D. and Anne Ornish
Dean Ornish, M.D., has directed revolutionary research proving that lifestyle changes can often reverse — undo! — the progression of many of the most common and costly chronic diseases and even begin reversing aging at a cellular level.
With seventy recipes, easy-to-follow meal plans, tips for stocking your kitchen and eating out, recommended exercises, stress-reduction advice, and inspiring patient stories of life-transforming benefits—for example, several people improved so much after only nine weeks they were able to avoid a heart transplant — Undo It! empowers readers with new hope and new choices.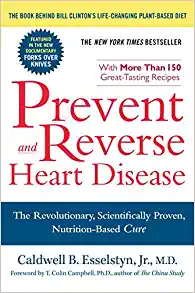 Prevent and Reverse Heart Disease: The Revolutionary, Scientifically Proven, Nutrition-Based Cure
by Caldwell B. Esselstyn Jr., M.D.
Based on the groundbreaking results of Dr. Caldwell Esselstyn's 20-year nutritional study showing that artery-clogging atherosclerotic plaques can be melted away with a wholesome, plant-based diet. New York Times and Amazon national bestselling guide to the lifesaving diet that can prevent and help reverse the effects of heart disease.
Complete with more than 150 delicious, plant-based recipes, Prevent and Reverse Heart Disease explains the science behind the simple plan that has drastically changed the lives of heart disease patients forever. It empowers readers by providing tools to take control of heart health.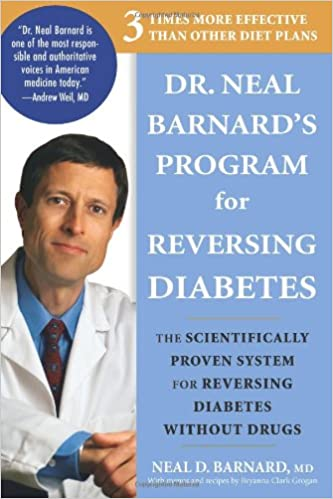 Dr. Neal Barnard's Program for Reversing Diabetes: The Scientifically Proven System for Reversing Diabetes without Drugs
by Neal Barnard, M.D.
In a series of studies, the most recent funded by the National Institutes of Health, Dr. Barnard has shown that it is possible to repair insulin function and reverse type 2 diabetes. By following his scientifically proven, life-changing program, diabetics can control blood sugar three times more effectively than with the standard diet; and cut back on and in some cases eliminate medications while reducing the risk of diabetes complications.
Neal Barnard, M.D., is a physician, clinical researcher, and adjunct associate professor of medicine at the George Washington University School of Medicine. He is also is the president and founder of the nonprofit Physicians Committee for Responsible Medicine and Barnard Medical Center. He is the author of 17 books, including New York Times best-sellers.
The film exposes the collusion and corruption in government and big business that is costing us trillions of healthcare dollars, and keeping us sick. What The Health is a surprising, and at times hilarious, investigative documentary that will be an eye-opener for everyone concerned about our nation's health and how big business influences it.
How and why what we eat is the cause of the chronic diseases that are killing us, and changing what we eat can save our lives one bite at a time.
This new ground-breaking documentary explores the impact that food choices have on people's health, the health of our planet and on the lives of other living species. And also discusses several misconceptions about food and diet.
If you haven't seen this film, I urge you and your friends to do so!
Forks Over Knives examines the profound claim that most, if not all, of the degenerative diseases that afflict us can be controlled, or even reversed, by rejecting animal-based and processed foods.
Pure Encapsulations Vitamins
We have worked on creating a site with Pure Encapsulations where you can order your supplements (from the original source) and that way you can continue to take them without disruption. Please click on the following link.